Skateboard Komplet REAL Team Edition Oval 8,25
Real TEAM EDITION OVAL 8,25" je parádní skate komplet vhodný pro každého začínajícího i středně pokročilého skejťáka. Nejenom, že se díky němu naučíš jezdit, ale zároveň budeš vypadat stylově!
Skate komplet Real je tvořen desky z javorového dřeva (7 vrstev dřeva) v plně konkávním prohnutí. Trucky Anchor mají šířku 133 mm a jsou tvořené z pevné slitiny, nemusíš se tedy bát, že se jen tak rozbijí. Do provozu tě uvedou urethanová kolečka Real o průměru 52 mm s tvrdostí 99a. Nemůžeme zapomenout na kvalitní ložiska, tady tě čekají ABEC 5. Klasický černý griptape je samozřejmostí.
Specifikace:
trucky - 133 mm
kola - 52 mm
deska - 8,25"
ložiska - ABEC 5
Velikost:
šířka - 20,9 cm
délka - 80,3 cm
Materiál: javorové dřevo, urethan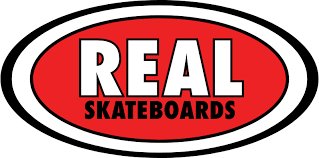 Real Skateboards is a skateboard company that was founded in 1991 by Tommy Guerrero and Jim Thiebaud, ex-Powell Skateboards riders at the time of formation, with support from skateboarding pioneer and entrepreneur, Fausto Vitello. Guererro explained in a twenty-year anniversary interview:
I'm not quite sure how me and Thiebaud met; through mutual friends, I think. We were skating together all the time, when he moved to the city and I was giving him Powell gear, and that's, and then he got on Powell, you know, after that—he just felt it wasn't right, you know? And, he went to skate for Natas. You know, he skated for, for, SMA for a while, and then the opportunity came to do something with Real. He approached me, but also Fausto and those guys approached me to be part of it, and at that point in time, at Powell, I was sort of being put on the back burner—'cause all the young guns coming, and I felt it, I knew, you know. And I figured, shit, I want to stay, stay in this world for as long as I can. You know, who wants to grow up? ... And we were sort of the first to start our thing on our own, in the sense that we were spearheading it and we did whatever we wanted ... Skateboarding is, it's not, it's not about stardom, or any of that stuff; it has nothing to do with it. So we kind of took it back, back into the streets ... Skating has to be raw—you gotta keep it raw and I think Real has done a good job of that.It was all about just friends doing something together that they believed in. when you have that, it's kind of unstoppable.
Guererro, an accomplished musician in addition to his ongoing role at Real, has praised Thiebaud for his commitment to the company, explaining that, "Jim has held it down ... and really is, the genius behind Real. It's all owed to the skaters and to Jim; all skaters past, present, and to come. '91—when we first got our boards in, and, um ... and that's why we're here today, twenty years later."
In 2012, Real released the Pushing series that featured video parts of its riders showcasing locations in the North American continent, according to the hometowns of the team riders—the parts were named after the respective locations, e.g. Pushing Georgia and Pushing Vancouver. Senior team riders Dennis Busenitz, Ernie Torres, and Peter Ramondetta (with Kyle Walker) were featured "pushing" San Francisco, Colorado, and Oklahoma, respectively. The series blurb explained: "As part of this year's summer tour the REAL riders each went home to push. Not only to skate the streets they call home, but to push the areas themselves."
Actions REALized
[
edit
]
In May 2013, Thiebaud collaborated with longtime friend Billie Joe Armstrong from American band Green Day to form the Actions REALized X Green Day collaboration deck project in support of the Children's Hospital and Research Center Oakland that is based in California, U.S. The Center is the Bay Area's sole independent children's hospital and a portion of the proceeds from the sales of the skateboard decks will be donated to benefit the Center's mission to care for every child who needs help, regardless of their financial status. The fundraising campaign is part of Real's "Actions REALized" division that undertakes projects based on the premise that "skateboarding can be a positive force for change", and past projects have contributed to efforts to combat childhood leukemia and the relief efforts in the wake of the 2011 Japanese earthquake.